10 December 2021
Phase one of Water Row Masterplan complete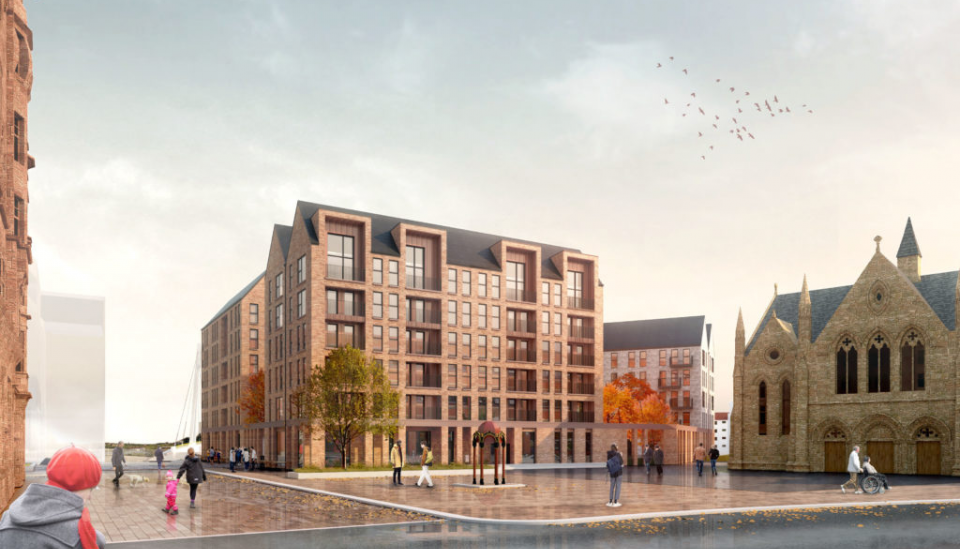 City Property (Glasgow) LLP and Govan Housing Association are delighted to confirm the completed sale of a 2.27 acre (0.92 hectare) site at Water Row, Govan.  The sale involved the amalgamation of various land ownerships including land owned by Glasgow City Council and City Property Glasgow (Investments) LLP. 
The consolidated site, which was sold by City Property on behalf of Glasgow City Council in November 2021 completes the initial stage of the Water Row Masterplan; a vision for the regeneration of a key site for Govan and the wider city.
The first phase of the regeneration of Water Row, put forward by Govan Housing Association, includes 92 rental flats and 6 commercial premises on the ground floor, with future plans for the area to include additional housing, commercial space, cycling connections and the proposed redevelopment of the Category A listed Govan Old as a cultural destination and enterprise hub.
Speaking on behalf of City Property, Andrew Brooks, Head of Property said, "We are delighted to have concluded this sale on behalf of Glasgow City Council. This is an exciting time for Govan, with the Water Row Masterplan set to transform this historically significant area of the city.  I'd like to thank the combined efforts of the teams at City Property, Glasgow City Council and Govan Housing Association for their work on this transaction"
Caron Quinn, Director of Corporate Services/ Deputy CEO for Govan Housing Association said "The Water Row development will enhance Govan and provide much needed accommodation and commercial space.  We are excited to be a key partner in this development, as we continue in our mission of Moving Govan Forward"
Further details about the Water Row masterplan can be found on Glasgow City Council website (HERE) and Planning Application documents can be viewed HERE.



Image courtesy of Govan Housing Association
 
"We are delighted to have concluded this sale on behalf of Glasgow City Council. This is an exciting time for Govan, with the Water Row masterplan set to transform this historically significant area of the city.  I'd like to thank the combined efforts of the teams at City Property, Glasgow City Council and Govan Housing Association for their work on this transaction"
Andrew Brooks, Head of Property (City Property)
"The Water Row development will enhance Govan and provide much needed accommodation and commercial space. We are excited to be a key partner in this development, as we continue in our mission of Moving Govan Forward"
Caron Quinn, Director of Corporate Services/ Deputy CEO (Govan Housing Association)